Konto dla studenta ING Direct - opinie, opłaty, oprocentowanie, forum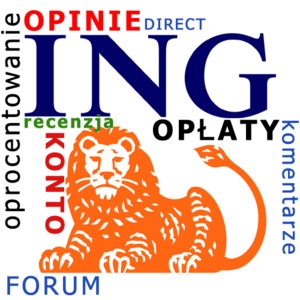 Konto studenckie w banku ING to niezwykle ciekawa opcja dla osób w wieku 18-26 lat. Takie konto, jak każde inne konto Direct w tym banku posiada szereg korzyści – przede wszystkim, co istotne dla studentów – 0 złotych prowizji za praktycznie każdą transakcję! Nie płacisz więc za wypłaty w różnych bankomatach, za przelewy w PLN przez Internet, a co ciekawe – przy pierwszym wydaniu karty nie tylko nie płacisz za nią, ale możesz wybrać na swojej karcie wizerunek, jaki tylko chcesz – nawet własne zdjęcie!
ING jest cenione jako bank z kontami dla studentów!
Okazuje się, że użytkownicy bardzo sobie cenią ten bank głównie ze względu na fachowość obsługi. Cenna jest również łatwość w dokonywaniu przelewów przez Internet – wystarczy autoryzacja kodu do przelewu wysłana przez bank SMS-em.
Doskonałe dla klientów jest to, że wszystkie zasady korzystania z usług banku są jasne, nie ma mowy o żadnych kruczkach prawnych, nieścisłościach. Jest to niezwykle ważne, gdyż pozwala nabrać zaufania do marki. Poza tym, większość opłat w banku ING rzeczywiście jest dość realnych, dostosowanych do potrzeb klienta i niewygórowanych. Jest to zasadnicza korzyść, bez względu na rodzaj konta, jakie wybieramy w tym banku. Co więcej, bank ING regularnie wprowadza nowości w postaci ciekawych ofert, jak ta najnowsza z finansometrem pozwalającym kontrolować swoje wydatki.
Konto studenckie w ING Banku Śląskim
W przypadku tego konta jedynym wymaganiem, by móc w pełni darmowo korzystać z usług banku, jest zrobienie miesięcznych transakcji kartą na kwotę minimum 100zł, co nie wydaje się być wygórowanym wymaganiem, gdyż większość użytkowników dokonuje takich transakcji zwykle dużo więcej.
Podsumowując, jeśli jest się studentem i mieści w przedziale wiekowym 18-26 lat, warto założyć konto w banku ING, choćby ze względu na jedyna taką na rynku możliwość wyrobienia sobie karty z własnym wizerunkiem.
Opinie o koncie w ING Banku Śląskim
Zapytaliśmy na facebooku użytkowników co sądzą o koncie Direct w ING. O to ich opinie:
Ja mam w ing banku slaskim od pol roku. Bezplatne prowadzenie, przelewy, od niedawna opcja finansometru. :)

Moge jeszcze dodac,ze swietnie obsluguje sie konto przez internet. Przy posiadaniu karty,trzeba miesiecznie wydac za jej posrednictwem 100 zl,inaczej naliczaja oplate w wysokosci 7 zl. Ale jak ktos tu wczesniej wspomnial-nie jest to uciazliwe.;)

Nina Filek
Tez ing. Konto bezproblemowe, przelewy realizowane w ciagu kilku minut, opcja finansometru gdzie wydatki masz pod stałą kontrolą, do tego powiadomienia na telefon o zrealizowaniu danej transakcji. Jestem baaardzo zadowolona :)

Widzialam pytanie o obsluge :) we Wloclawku znakomita, nawet gdy zapomnialam hasla do konta internetowego bez problemu wygenerowali mi nowe, pani zaproponowala mi wyzej wspomniane otwarte konto oszczednosciowe, na ktore rodzice nie majacy konta w ing moga mi przelewac kase bez dodatkowych oplat, a ja potem sama moge przelewac z jednego konta na drugie.

Marta Szarłat
Też mam ING. Polecam. Wszystko darmowe, jednak trzeba dokonać zapłaty karta na kwotę stu złotych w miesiącu, aby opłata za kartę nie była pobierana. Da sie zrobić. Także konto tam jest całkiem w porządku.

Miałem jeszcze dodać to co wspomniała Nina. Znakomity interfejs online, błyskawiczne przelewy. Można też dodać ze oprócz zwykłego rachunku można otworzyć Otwarte Konto Oszczędnościowe, które posiadam, i środki rosną z miesiąca na miesiąc. Co ważne - z tego konta można w każdej chwili wyplacac środki na swoje konto główne i nie tylko. Plusem są też wszystkie bankomaty za free i fachowa obsługa.

Mateusz Marek
Ja mam konto w ING. Karta darmowa ,szybkie przelewy , konto internetowe, bankomaty na kazdym kroku, obsluga bardzo mila i pomocna. W dodatku do swojego konta dostalam dodatkowe Otwarte Konto Oszczednosciowe, wiec odkladam na nim pierniadze na studia. Ogolnie konto godne polecenia.

Anna Trzebiatowska
Jeżeli chciałbyś dodać swoją opinię to zrób to w komentarzu.
Opłaty i prowizje przy koncie Direct ING Banku Śląskiego
Konto przy spełnieniu jednego warunku jest całkowicie bezpłatne. Poniżej szczegółowa lista opłat i prowizji.
| Pozycja z tabeli opłat i prowizji | opłata/prowizja |
| --- | --- |
| Założenie konta | 0 zł |
| Przelewy | 0 zł |
| Opłata za wydanie karty | 0 zł |
| Korzystanie z karty | 0 zł (7zł jeżeli nie wykonamy transakcji na 100 zł w ciągu miesiąca) |
| Wypłaty w bankomacie w Polsce | wszystkie bankomaty są bezpłatne |
| Wypłaty w bankomacie za granicą | 3% |
| Wpłata na konto w oddziale ING Banku Śląskiego | 9 zł |
| Oprocentowanie konta | 0% dla konta bankowego i 4% dla konta oszczędnościowego |
| Jak zołożyć konto? | Wypełnij wniosek online |
Finansometr i własne zdjęcie na karcie bankomatowej
Do konta Direct została dodana bezpłatna usługa finansometr. Jest to aplikacja która pozwala w wygodny i przyjemny sposób sprawdzać na co wydaliśmy pieniądze w danym miesiącu. Wszystkie transakcje są pogrupowane w kategorie dlatego bardzo łatwo możemy śledzić nasze wydatki.
Drugą rzeczą która wyróżnia to konto z szeregu innych jest możliwość wyrobienia karty płatniczej z własnym zdjęciem lub dowolnym innym. To co umieścimy na karcie to tylko nasz wybór!
Podsumowanie i opinia o koncie Direct w ING Banku Śląskim
Konto Direct to jedna z najlepszych ofert na rynku kont bankowych w Polsce. Klienci bardzo chwalą sobie jego usługi co można zauważyć w powyższych komentarzach. Cały czas mamy dostęp do fachowej i miłej obsługi w oddziałach banku, na infolinii czy do płynnie działającego konta internetowego. W 100% polecamy tą ofertę jako jedną z czołowych na rynku!
Jak założyć konto?
Wypełnij wniosek online, a następnie podpisz umowę którą dostarczy kurier. Całość zajmie Ci kilka minut.
Kliknij, aby założyć kont Direct
Zobacz także inne materiały na temat ING